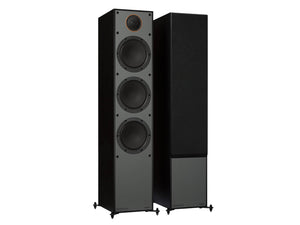 Monitor Audio
Monitor Audio floor-standing Monitor 300
Regular price
Rs. 79,999.00
Rs. 79,999.00
Unit price
per
Tax included.
The Monitor 300s are the top-of-the-range speaker and have been designed to give maximum power and performance. Their cabinets house three 61/2" MMP-|| bass drivers: two dedicated to bass and one to mid-range frequencies.
The dedicated mid-range driver delivers the clarity and precision expected from a serious hi-fi speaker, and adds the necessary warmth to create an immersive musical and cinema experience. The larger driver and cabinet size produce the scale and punch that is recommended for optimum performance in medium to large rooms.
The Monitor 300s are equipped with outrigger feet that give a sleeker appearance, take up less floor space and improve the stability of the speaker.
---