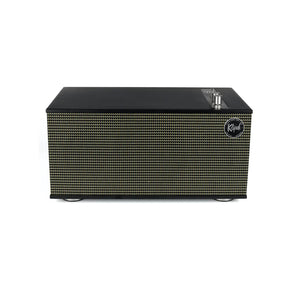 Klipsch
Klipsch The Three II Wireless Home Speakers
Regular price
Rs. 58,600.00
Rs. 58,600.00
Unit price
per
Tax included.
Enjoy an unrivalled audio experience with the Klipsch Three II. This stereo tabletop system has been bi-amplified and professionally-tuned by Klipsch's Acousticians to offer high-resolution audio. The double 1/4-inch full-range drivers and 5.25-inch woofer are designed to make you feel as though you're in the recording studio with the musicians. Love indulging in some extra bass? The additional dual-opposed 5.25-inch passive radiators offer an enhanced bass reflex that ultimately results in a premium audio experience.
THIS ONE'S A VISUAL TREAT
Made for those who have great taste in aesthetics, the Three II is crafted from real wood veneer. The tactile spun copper switches & knobs, stylish grill, logo and top panel offer a visual statement. This is a part of the Klipsch Heritage Wireless series of powered audio systems that seamlessly blend the classic design legacy of Paul W. Klipsch with the modern marvels of today's technology.
CONNECT TO JUST ABOUT ANY SOURCE DEVICE OF YOUR CHOICE
The Three II is designed to be versatile. At just about 7 inches tall and a foot wide, its tiny form makes it perfect for any spot in your house — from bookshelves to tabletops. It can connect to any source device of your choice thanks to Bluetooth®, 3.5mm miniplug (analogue), Phono pre-amp / RCA analogue and USB Type-B inputs. This includes your computer, turntable, CD player, smartphone and more. This beautifully designed speaker is able to decode audio tracks up to 24-bit/ 192kHz from your PC.
THE MAN WHO BROUGHT LIVE MUSIC INTO THE LIVING ROOM
The Three II is the fruit of Paul W. Klipsch's (PWK) legacy of amazing acoustic performance. Known as a genius, madman and maverick, he was a true American audio pioneer. He built the legendary Klipschorn® loudspeaker and is responsible for the new-age research and inventions in speakers that generations of music lovers enjoy even today.
---