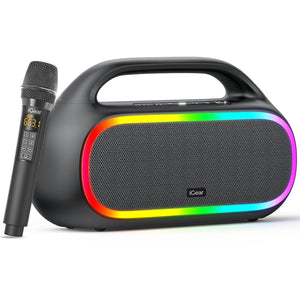 iGear
iGear Grape Karaoke Ready Portable Wireless Speaker with 70W Output, with Wireless Rechargeable MIC, RGB LED's, TWS Mode, Multi-Compatibility Modes, IPX6 Water Resistance, EQ Modes, with Type-C Charging
Regular price
Rs. 10,999.00
Sale price
Rs. 15,500.00
Unit price
per
Tax included.
The iGear Grape party speaker with karaoke mic is perfect for parties and outdoor activities. Your event will be elevated with the powerful 70W Bluetooth speaker with mic. With TWS mode, you can connect two speakers for stereo sound. This portable Bluetooth speaker with lights is also lightweight and compact, so you can take it anywhere.


You can sing your favorite songs or even give a speech at your event with the wireless rechargeable mic.
Rich Sound From Quad Bass Radiators
There are four bass radiators in the iGear Grape, which improve the low-end response and create a rich and thrilling sound. Whether you're watching movies or gaming, these bass radiators will enhance your audio.
Add A Stylish Touch To Your Place
There's nothing more stylish or sleek than the iGear Grape speaker with mic. This portable party speaker with Mic input is easy to transport and use. Its compact size allows you to take your favorite tunes on the go, wherever you are.
Play for 18 hours on a single charge
It has an impressive battery life. So, you don't have to worry about constantly recharging your speaker while you're on the go or hanging around the house. If you're not using it, the speaker automatically shuts off to save batteries.
Water And Moisture Won't Damage It
Outdoor activities like camping, hiking, or pool parties are made easy with the karaoke mic with speaker Bluetooth. It's water-resistant so you can take it anywhere without worrying about it getting damaged. With its rugged design and IPX6 rating, the speaker can withstand the elements and keep you entertained wherever you go.
Enjoy Unlimited Performances
With the iGear Grape speaker, you also get a wireless microphone with five voice modes. You can choose from five different voice modes to match your music or speaking style. For presentations, parties, or just singing karaoke, this wireless mic with a speaker is ideal.
Get A Larger Soundstage With TWS Function
The iGear Grape speaker also has a TWS (True Wireless Stereo) function, so you can connect two Bluetooth speakers wirelessly. With this, you'll get an even bigger soundstage and a more immersive audio experience. Using TWS, you can place a speaker on each side of the room to fill it with sound. You can use this feature for parties, gatherings, or even just for personal listening.
---