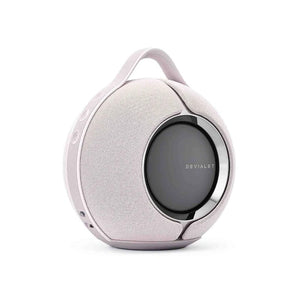 Devialet
Devialet Mania Portable Smart Speaker Sunset Rose
Regular price
Rs. 92,000.00
Rs. 92,000.00
Unit price
per
Tax included.
Moments in metamorphosis.
Introducing Devialet Mania, our first high fidelity portable smart speaker with 360° stereo sound. Devialet's signature obsession for pure sound merges with a mobile design.
Real-time adaptation.
Thanks to its adaptive cross stereo, Devialet Mania portable speaker offers a soundstage that morphs to whatever space it's in.
Pure sound
in motion.
Transcend the limits of your space. With Devialet Mania, Devialet's iconic aesthetic has morphed into a portable speaker form. A handle for ease of movement. An IPX4 splash-resistant rating for resilience. And Devialet's first built-in battery for up to 10 hours of wireless streaming. Experience pure infatuation with augmented listening that leaves a lasting impression.
Elegantly easygoing.
Sturdy and soft, fused. Devialet Mania boasts visible push-push woofers and a co-spherical design. A luxurious woven skin swathes its exoskeleton, which in turn protects the technologies held within. Make it your focus, tuck it away, and take it outdoors— Devialet Mania was designed to sublimate any setting, any moment.
Witness the metamorphosis.
Let Devialet Mania adapt to your environment and revel in the experience. Its real-time acoustic mapping technology, ASC - Active Stereo Calibration, taps four-room calibrating microphones and embedded intelligence capabilities to allow Devialet Mania to automatically evolve the audio rendering based on its surroundings.
---