270° Booming Bass Extensions
Hear the compact GV11 in action and get ready to be amazed. The 270-degree 5W speaker, tuned by treVolo, produces a room-filling sound with an acoustic waveguide design. It also features a sealed, enclosed design that helps minimize distortion with better bass extensions.
Smooth Audio at Any Angle
The dual-sided sound diffuser features a base designed for better audio dispersion at any angle! Stream and watch on the ceiling without sacrificing the sound quality.
Certified Android TV Entertainment
Powered by Android TV 10, the GV11 serves up a sea of content from your favorite apps such as Prime Video, Hulu, YouTube, and more! Stream your favorite shows, music, and games with this all-in-one-projector. Enjoy a cozy night in without any glitches thanks to the seamless interface and voice assistant!

Seamless Streaming Fun • 5,000+ Google Play's Latest Apps • Get inspired all hands-free
Notice: Netflix only supports specific authorized devices and is not natively available on BenQ smart home projectors. Please follow these recommended viewing procedures.
Easy Device Mirroring
Supports Apple Airplay and Google Chromecast so you can easily stream from your phone or tablet! Plus, GV11 works hand in hand with almost every streaming device.
Control from the App
Control the projector from your phone with the BenQ Smart Control App. Download it now on the Google Play or the App Store.
Non-Stop Enjoyment
Enjoy 160 minutes of non-stop entertainment anywhere.
*Battery life may vary by content type, media source, or projector settings.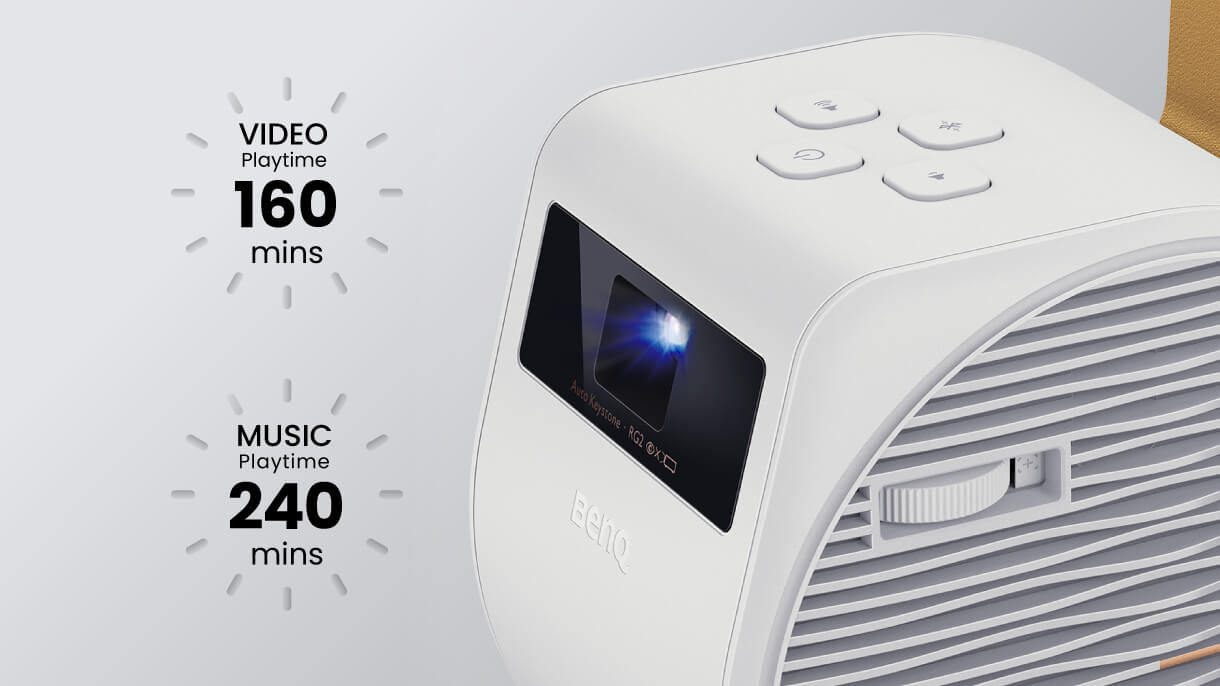 A Relaxing Treat
After a long day of challenging work, it's so nice to treat yourself to rich content you love. With GV11's carrying case and ready flexibility, you can lay back and enjoy comfortable cinema in your private resort anytime, anywhere.
*If you want to carry the projector for a longer time, please put it in the carrying case or hold the machine with your other hand.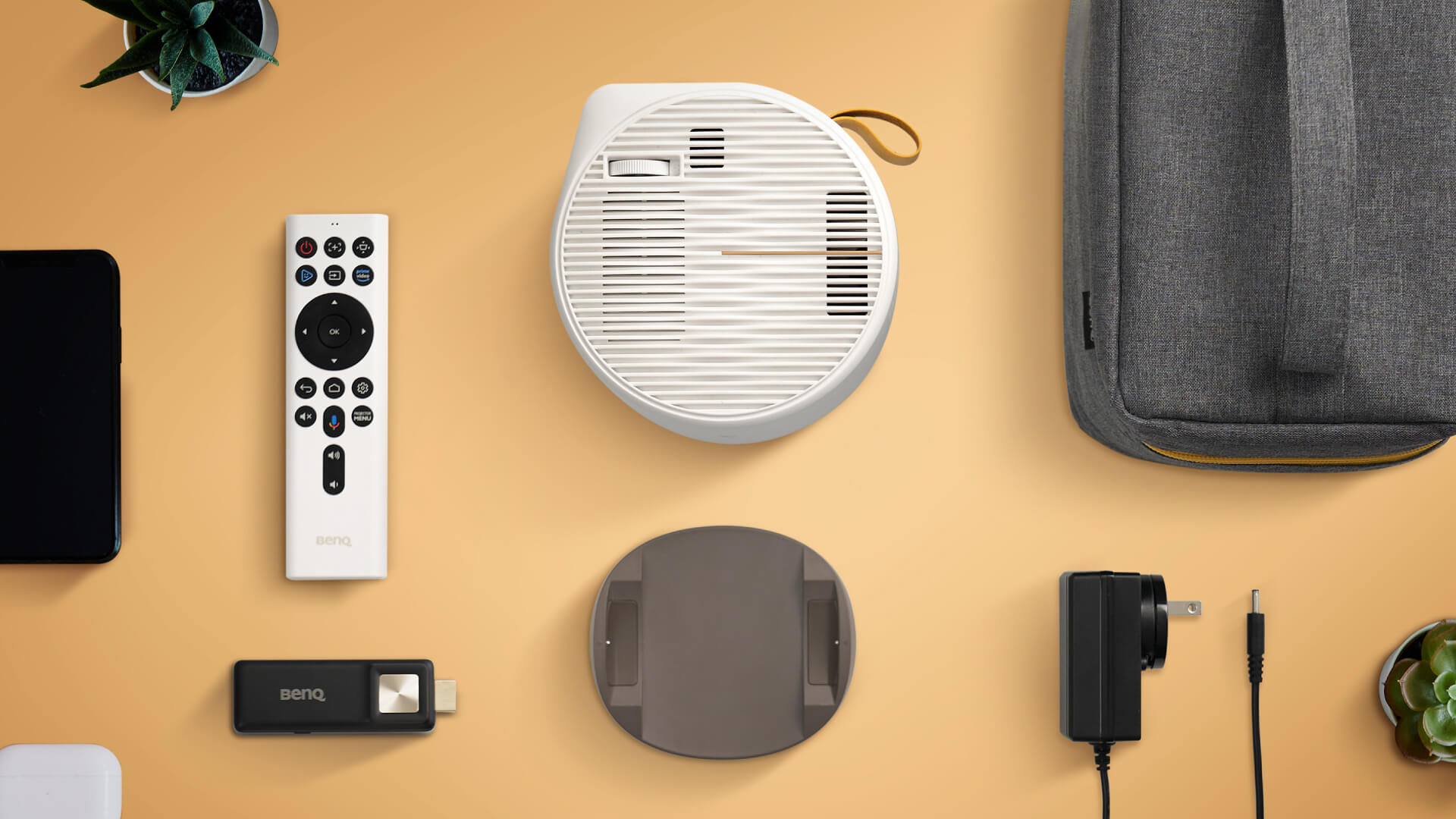 Make Every Room Your Personal Theater
At just over 7.5ft projection distance for an 80" screen, GV11 can turn any wall or ceiling into an immersive cinema. Your cozy nook is now a big dreamland to stage romances and adventures.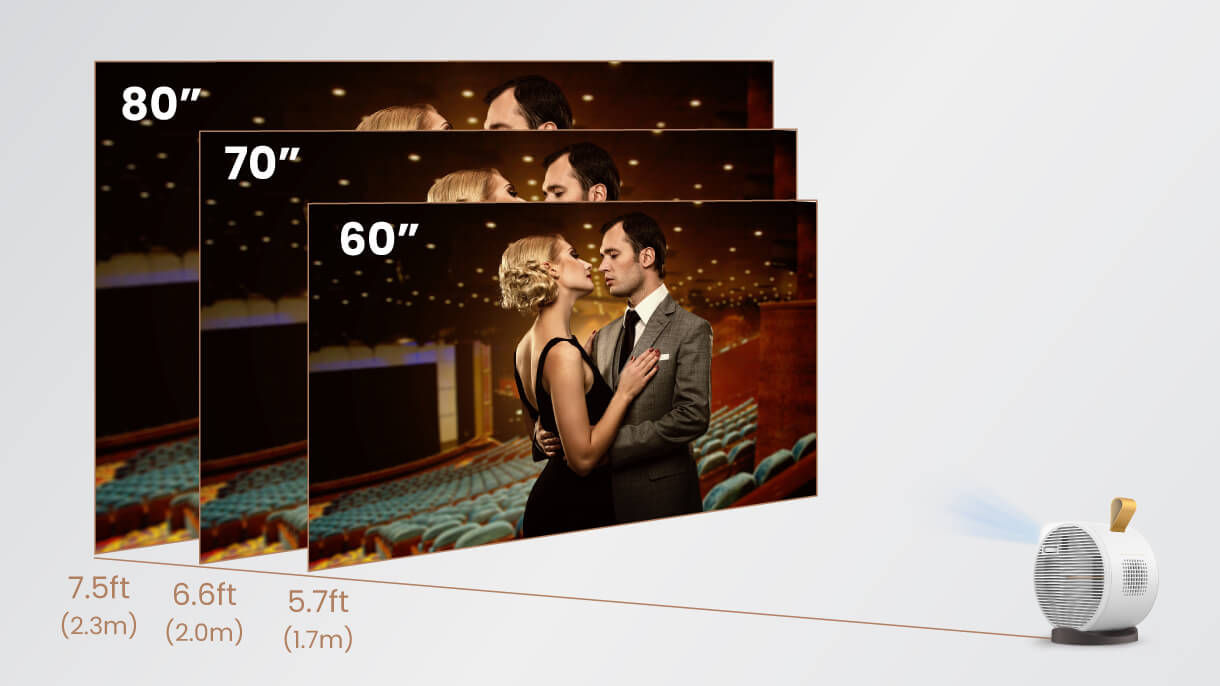 Auto Vertical Keystone
The auto vertical keystone automatically adjusts for squared images, you can easily project aligned images from various angles.
Connect with Versatility
Whether it's a smart streaming accessory or Bluetooth device, it'll work with GV11's HDMI 1.4b or USB-A.