Build a luxury theatre room to freely enjoy your movies and music in rich sound quality
The NS-F71 floorstanding speaker will form the core of your home theatre, extracting every ounce of quality from your HD sources to let you enjoy rich, immersive sound with any media from movies to music. Its stylish design features a two-tone cabinet finish and iconic trim ring. One rank up from the NS-P51 speaker package, take your home theatre space upscale with the NS-F71.
Visit www.thesoundfactor.com to know more 
Tight high end and wide bass tones with the new trim ring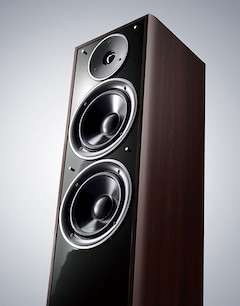 The NS-F71 is constructed in a 2-way 3-speaker configuration consisting of two 16cm (6-1/2") cone woofers and one 3cm(1") soft dome tweeter. Each speaker unit features a newly developed trim ring. In the tweeter it suppresses unwanted vibration for tighter and more precise treble. In the woofers, its inclined shape helps create bass that you can feel spreading to every corner of the room.
 Visit www.thesoundfactor.com to know more 
A large cabinet constructed from MDF materials
The large body cabinet takes advantage of its full 97cm(38-3/8") height to realise powerful bass tones beyond its class. The uniform acoustic characteristics of the high-rigidity MDF materials used in its construction eliminate excess vibration to produce clear and crisp sound free from cabinet resonances.
Large, gold-plated terminals prevent degradation of sound quality
The extra-large, screw-type terminals are gold-plated to ensure maximum signal transmission efficiency. They are capable of handling HD audio signals with no loss of sound quality.
Visit www.thesoundfactor.com to know more 
A glossy black front baffle and two-tone finish offer exquisite design
The high texture wooden speaker cabinet features a beautifully glossy black front baffle, and each speaker unit's dignified and noble appearance is enhanced by the addition of a metallic silver ring to the glossy black surface.
A front grille with rounded form for luxurious and upscale design
Enjoy a sense of luxury with a front grille featuring slanted corners and a design that brings to mind Yamaha's flagship speakers. And with the speaker cabinet also sporting a rounded shape, the unity of design will fit beautifully into your home theatre space.
 Visit www.thesoundfactor.com to know more 
Choice of two colours to help you create a high-quality home theatre.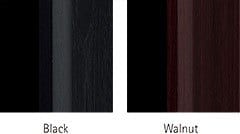 The speakers are beautifully finished and are available in a choice of two colours: the luxurious look of walnut, and stylish black. Together with the high-texture wood grain cabinet, these speakers will complement any TV monitor and interior.
Visit the official dealer of Yamaha, "The Sound Factor" for a demo or Visit www.thesoundfactor.com to know more