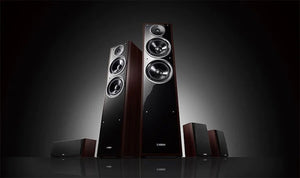 Build a luxury theatre room to freely enjoy your movies and music in rich sound quality The NS-F71 floorstanding speaker will form the core of your home theatre, extracting every ounce of quality from your HD sources to let you enjoy rich, immersive sound with any media from movies to music. Its stylish design features a two-tone cabinet finish and iconic trim ring. One rank up from the NS-P51 speaker package, take your home theatre space upscale with the NS-F71. Visit www.thesoundfactor.com to know more  Tight high end and wide bass tones with the new trim ring The NS-F71 is...
---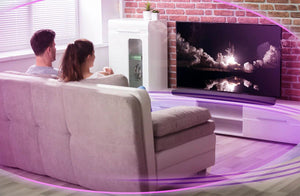 UPGRADE TO CRYSTAL CLEAR TV SOUND. Enhance your TV, movies and games with built-in Alexa voice control, DTS® Virtual:X™ virtual 3D surround sound, wireless subwoofer, and Bluetooth streaming all in a simple, sleek setup. Visit www.thesoundfactor.com to know more  ALEXA VOICE CONTROL "Alexa, turn the volume up in the lounge room." With Alexa voice control integration, all you have to do is ask. The YAS-209 offers built-in Alexa voice control for easy control of your sound bar, smart home devices, music and more. *Availability of Amazon Alexa voice control varies by country. Visit www.thesoundfactor.com to know more  IMMERSIVE 3D SOUND...
---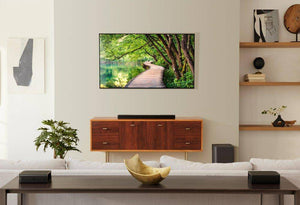 Jbl 1300 Soundbar has Immersive sound in theater-quality 3D sound. With four up-firing drivers in the main bar and two more in the detachable speakers, they delivers true Dolby Atmos® and DTS:X together with MultiBeam™ for an enhanced 3D surround sound experience. Enjoy real surround sound without the hassle of extra wires and power connections. Just place the two JBL1300 detachable battery-powered Jbl Dolby atmos Soundbar behind you and get swept away in amazing audio. Visit the website for more info : www.thesoundfactor.com With 1170 watts of total system power, they transforms your movies, music and games into immersive sound experiences and pulls...
---
Collected from - www.stereophile.com Monitor Audio Gold 300 loudspeaker About a year after settling into my new house, I decided to buy a pair of Monitor Audio Silver 10 floorstanding loudspeakers, which I had reviewed in 2014 for our sister publication Sound & Vision. I wound up buying three of them, with the intention of cannibalizing the drivers and crossover from one to make my own three-way center-channel speaker. But that project was long delayed, and I never got around to doing anything with the third Silver 10: It now sits in a closet as a spare. (The similar but smaller Silver...
---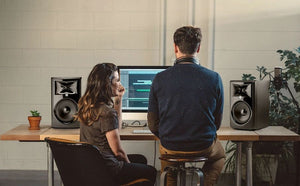 You've spent long hours in the studio carefully fine-tuning your mix, obsessing over every detail until you're satisfied with your sonic masterpiece. But when you listen to your finished product on a new system—your car, your home stereo, headphones—you're shocked to discover that it sounds absolutely nothing like that mix you worked so hard to perfect. What the heck happened? You can probably blame your studio monitors. No matter what kind of music you make, where you record or what kind of gear you use, your studio monitors are the centerpiece of your studio, the lens through which you evaluate...