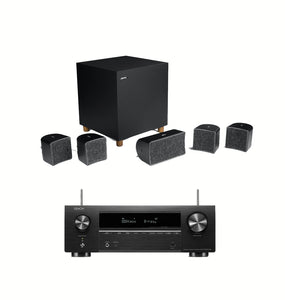 Jamo
Jamo Studio Cinema 5.1 with Denon AVR S660H
Regular price
Rs. 125,000.00
Sale price
Rs. 157,000.00
Unit price
per
Tax included.
The Studio Cinema 5.1 is a compact, all-in-one surround sound speaker system that combines the performance and value of the classic Jamo Studio loudspeakers for versatile placement in any environment.

CONTEMPORARY DESIGN :

Clean, minimalist Danish design, compact cabinets, quality materials, and modern finishes blend seamlessly into any space. The satellites feature heathered cloth grilles, satin-painted cabinets, and diamond-cut logos, complimented by the subwoofer's durable satin vinyl finish with wood grain accented feet.

HIGH-PERFORMANCE ACOUSTICS :

These satellite speakers are small in size, but the sound quality they produce is large in scale and acoustically pure. The woofer and tweeter are integrated into a single drive unit, creating a genuine 2-way speaker system in an extremely small cabinet. The 8" subwoofer's small footprint is designed for unobtrusive placement and impactful bass.

INCLUDED WALL BRACKETS :

Exclusive tilt/pan brackets are included for an easy mounting solution and versatility in placement. Sandblasted steel construction and strong rubber gaskets on the mount arm allow for satellite tilt while preventing sagging over time, meaning aesthetic and acoustic consistency over time.


SPECIFICATIONS :

SYSTEM TYPE : 5.1 Surround with Powered Subwoofer
FREQUENCY RESPONSE (SYSTEM) : 38Hz - 20kHz
WOOFER : Front L/R: 3" Polyfiber Woofer, Center: Dual 3" Polyfiber Woofers , Surrounds: 3" Polyfiber Full Range, Subwoofer: 8" Downfiring Polyfiber.
TWEETER : Front L/R: .75" Soft Dome, Center: .75" Soft Dome, Surrounds: -
POWER HANDLING : 60W Continuous / 80W Peak
IMPEDANCE : 6 Ohm Minimum, 8 Ohm Nominal (Front L/R, Center, Surrounds)
SENSITIVITY : Front L/R: 86dB, Center: 88dB, Surrounds: 84dB
SUBWOOFER POWER : 100W Continuous / 200W Peak
DIMENSIONS (WITHOUT BRACKET) : Front L/R: 91x91x92/3.6x3.6x3.7, Center: 91 × 174 × 92 / 3.6 × 6.9 × 3.7, Surrounds: 91x91x92/3.6x3.6x3.7
DIMENSIONS (WITH BRACKET) : Front L/R: 91 × 91 × 115 / 3.6 × 3.6 × 4.5, Center: 91 × 174 × 127 / 3.6 × 6.9 × 5.0, Surrounds: 91 × 91 × 115 / 3.6 × 3.6 × 4.5
PRODUCT WEIGHT (WITHOUT BRACKET) : Front L/R: 0.8/1.8, Center: 1.1 / 2.4, Surrounds: 0.7 / 1.5


DENON AVR-S660H
Designed for 4K or 8K setups, the AVR-S66OH delivers superior 3D audio home theater/gaming experiences and supports the latest HDMI specifications.
5.2 Channel AV Receiver
The AVR-S660H 5.2 channel receiver supports home theater surround sound including stereo subwoofers for your home entertainment.
Enhanced Gaming & 6 HDMI Inputs
6 HDMI Inputs allow for quick, easy switching between all your media systems including game consoles, streaming sticks, cable box, and more. HDMI 2.1 technology allows maximum gaming and video quality.
Wireless Streaming with Bluetooth and Wi-Fi
The AVR-S660H functions as both a Wi-Fi and Bluetooth receiver. It supports HEOS multi-room audio, high-quality music streaming, and home theater all in one.
4K & 8K Ready for the Ultimate Home Theater
The AVR-S660H 8K receiver delivers the ultimate home theater experience with 8K/60Hz pass-through, 4K/120Hz pass-through, and support for the latest HDMI specifications.
---