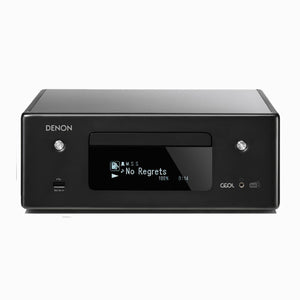 Denon
Denon RCD-N11 Network Streaming Stereo Amplifier
Regular price
Rs. 68,900.00
Rs. 0.00
Unit price
per
Tax included.
Denon RCD-N11 HI-FI Network CD Receiver is now available on Tecnifi. Enjoy stellar sound that caters to a minimalist's choice of style. The Denon RCD-N11 Hi-Fi-Network CD Receiver with HEOS Built-in music streaming, Bluetooth® and voice control is the perfect compact stereo for all your musical desires. Experience virtually endless sound possibilities with the RCD-N11. Enjoy an immersive audio experience while listening to your favourite CDs, stream your playlists via Spotify, Deezer Premium or Tidal, go multi-room with the HEOS Built-in technology, using Bluetooth® or your network. Enjoy Internet Radio and AirPlay2. And for optimum convenience: Control this Mini HiFi system easily via your voice with Amazon Alexa, Google Assistant, and Siri via Apple AirPlay 2.
HEOS Music Services, Multi-room Streaming, and Amazon Alexa Voice Control
With the Denon RCD-N11, you can enjoy playing your favourite tunes on your preferred music streaming services including Spotify, Deezer, Tidal, Amazon Music and more. Ask your Google Home, Google app or other devices with Google Assistant built-in to control the content across your listening environment. Start music in the HEOS app, then ask your Google Assistant to control volume, play, pause, or skip tracks. 'Works with the Google Assistant' feature is always improving — further improvements featured via future firmware updates. Select the sound or source you like, turn up the volume, or skip to the next track. You can do all this and more with simple voice commands. Since the RCD-N11 Mini System is compatible with Amazon's Echo devices and Alexa Voice Service, it'll literally read your every wish from your lips.
Remarkable Sound Design That Ensures Clarity and Musical accuracy
RCD-N11 is built for optimum sound performance with a custom-made two-way speaker configuration that improves clarity and musical accuracy. You will hear every instrument clearly with enthusiast quality.
Intuitive Touch Panel for Immediate Response
A key design element is the touch keys on the top of the RCD-N11. They give an immediate response – by light. This Network-Receiver also has a double-layered scratch-resistant surface which renders a distinct and gratifying feel.
Start Listening Right Away, As You Get Spoilt for Choice
RCD-N11 is fast and intuitive to set up, taking just minutes from unboxing to filling your home with pleasant music. Just follow the simple instructions and connect to your favourite streaming services with ease. Or just pop in a CD. You are spoilt for choice.
---