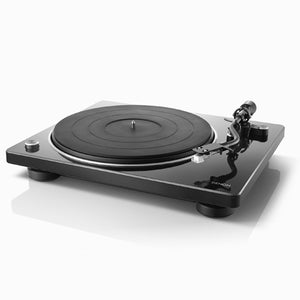 Denon
Denon DP-450USB Hi-Fi Turntable
Regular price
Rs. 82,900.00
Rs. 0.00
Unit price
per
Tax included.
Denon DP-450USB Hi-Fi Turntable
Reinvigorate your passion for vinyl at home or on the go with the Denon DP-450USB. Integrated USB-A port lets you digitize your vinyl collection and create quality records in MP3 or WAV file formats. The strong, sophisticated design perfectly blends with the existing Denon Design Series. S-Shape curved tone-arm and the weighted, belt-driven platter spin your 33 1/3 rpm, 45 rpm, or 78 rpm records with precision and detail. Connect the DP-450USB to any amplifier or system with analog inputs via the built-in phono equalizer and enjoy music that's faithful to the original recording.
Create Digital Files of Vinyl Records
Enjoy your vinyl collection anywhere with DP-450USB. Integrated USB-A output allows for one-touch recording of your favorite vinyl records onto a USB drive as MP3 or WAV format files. Further editing is possible by the free Musicut software. Play your albums on the DP-450USB or record and take them with you to enjoy trusted Denon sound wherever you go.
Specially Engineered S-shape Tonearm
Features a carefully engineered S-Shape curved tonearm with optimized tracking angle at any point of the record, auto-lift at record's end, and playback stop. When the vinyl reaches the end of playback, the tonearm auto-lifts preserving the excellent condition of your album and the cartridge. S-Shape curved tonearm design also reduces harmonic distortion, ensuring a crystal clear sonic signal every time you listen.
Strong-Built Construction
Strong build construction offers both the strength and high density needed to reproduce detailed, resonance-free music. Thick cabinet walls and a weighted platter provide the optimal surface for your vinyl collection, reducing external vibration. Pair DP-450USB with the rest of the Denon Design Series for a durable, high-resolution system.
Speed Selector with Easy Setup and Operation
Takes minutes to unbox and quickly operate for novice and seasoned vinyl fans. Plug DP-450USB into your favorite amplifier or system, including the Denon Design Series, and immediately begin reconnecting with your vinyl collection – it's that easy.
---