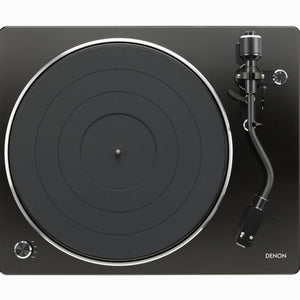 Denon
Denon DP-400F Hi-Fi Turntable With Speed Auto Sensor
Regular price
Rs. 69,900.00
Rs. 0.00
Unit price
per
Tax included.
Rediscover your passion for vinyl with the Denon DP-400F Hi-Fi turntable with speed auto sensor. Strong construction and elegant design blend seamlessly into the existing Denon Design Series. The curved, horizontal tracking angled tonearm lifts automatically and stops the platter when the vinyl reaches the end of playback. Weighted, belt-driven platter supports 33 1/3 rpm, 45 rpm or 78 rpm records with a precision that's faithful to the original recording. Integrated phono equalizer creates an open, enveloping sound stage for your cherished albums with detailed, accurate reproduction. Includes MM cartridge and supports MC cartridges. Exclusive, removable dust cover doubles as a display stand.
Specially Engineered Tonearm
Features a carefully engineered curved, horizontal tracking angled tonearm with auto-lift and playback stop. When the vinyl reaches the end of playback, the tonearm auto-lifts 10 seconds prior to the groove end and returns to its seated position, preserving the excellent condition of your album. Curved tonearm design also reduces harmonic distortion, ensuring a crystal clear sonic signal every time you listen.
Strong- Built Construction
Solid construction offers both the strength and high-density needed to reproduce detailed, resonance-free music. Thick cabinet walls and a weighted platter provide the optimal surface for your vinyl collection, reducing external vibration. Pair DP-400 with the rest of the Denon Design Series for a durable, high-resolution system.
Speed Selector
Supports playback at 33 1/3 rpm, 45 rpm, and 78 rpm. Easily play your entire vinyl collection and enjoy its full breadth — even your cherished, vintage 78's.
Easy Setup and Operation
Takes minutes to unbox and quickly operate for novice and seasoned vinyl fans. Plug DP-400 into your favorite amplifier or system, including the Denon Design Series, and immediately begin reconnecting with your vinyl collection — it's that easy.
---