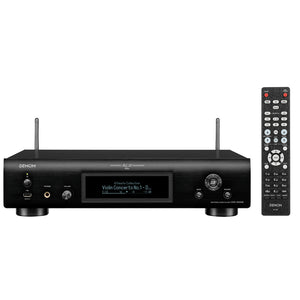 Denon
Denon DNP-800NE Network Audio Player With Wi-Fi And Bluetooth
Regular price
Rs. 72,900.00
Rs. 0.00
Unit price
per
Tax included.
Widen the horizons of your sonic world with the Denon DNP-800NE. The meticulously designed Network Audio Player offers accuracy for high-resolution audio and music streaming. Directly connect to your home network or stream over Wi-Fi and enjoy a wide expanse of music services like Spotify, Deezer, Tidal, Amazon Music, TuneIn internet radio and so much more. Bluetooth, Airplay 2 and Google Assistant are supported for direct streaming from a smart device. Sit back and indulge in gapless playback of your high-resolution audio including 192kHz/24bit FLAC/WAV, ALAC, DSD 2.8/5.6MHz, and listen from any of your connected devices. Thorough sound engineering and solid construction guarantee top-of-the-line audio performance. Enjoy DNP-800NE via the speaker connected to your amplifier like PMA-800NE or privately via the top-notch headphone output. Control the DNP-800NE with Amazon Alexa voice compatibility or with the free HEOS App.
Powered with Built-in Bluetooth, Wi-Fi and AirPlay 2 Capability
BUILT IN HEOS, BLUETOOTH, WIFI, AIRPLAY 2 AND GOOGLE ASSIST CAPABILITY.
Attributing to built-in Wi-Fi, Denon DNP 800NE connects to the internet through your home network to provide near-limitless streaming options. Listen to online music services over AirPlay 2 and Bluetooth with your smart devices and connect to your PC or Mac for additional streaming capabilities.
Universal Playback of Digital Music Files
Playback nearly any digital audio format available from a USB drive or through your network connection. Listen to lossy formats like MP3, WMA and AAC, as well as lossless formats including ALAC, WAV and FLAC HD (up to 24-bit, 192 kHz). DNP-800NE plays back DSD files (in 2.8MHz and 5.6MHz resolution) over streaming, and gapless playback for DSD, WAV, FLAC and ALAC files. Enjoy your audiophile-quality digital collection with the DNP-800NE.
Advanced AL32 Processing Plus
The Denon DNP-800NE is equipped with Advanced AL32 Processing Plus, the latest in analog waveform technology from Denon. Advanced AL32 Processing Plus utilizes data interpolation algorithms, which support high-resolution audio sources. The algorithms smooth out the waveform and restore data that was lost during the digital recording, resulting in playback that is extremely nuanced, without any interferences and stringently faithful to the original sound. Listen to songs as the artist originally set out for while recording in the studio.
High-grade Audio Components and Engineering
With more than a 100-year legacy designing premium audio components, trust that your Denon product has undergone rigorous testing. Engineers choose only the best components, like the high-precision 32-bit, 192-kHz D/A converter PCM1795 by Burr-Brown, to build Denon DNP-800NE. This converter amplifies the minute details of music with remarkable clarity, mimicking the acoustic resonances of concert halls. Minimized signal paths prevent signal degradation between circuits to provide pure playback sound. The unique aesthetic signature, sound quality and design integrity of the DNP-800NE and its Hi-Fi components boast of unmatched longevity.
---