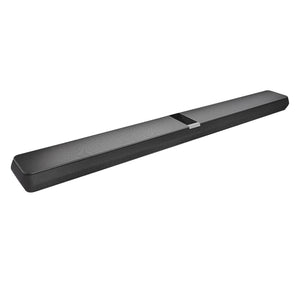 Bowers & Wilkins
Bowers & Wilkins Panorama 3 ATMOS Soundbar
Regular price
Rs. 135,000.00
Sale price
Rs. 163,000.00
Unit price
per
Tax included.
The source of cinema sound.
The Bowers & Wilkins Panorama 3 is a Dolby Atmos-enabled, Amazon Alexa-compatible, home theater powerhouse in a single, elegant component. Bowers & Wilkins draws on its decades of collaboration with the world's most famous recording studios to deliver stunning sound.
Add multidimensional audio to your TV experience with the Bowers & Wilkins Panorama 3 400W 3.0.2-Channel Soundbar. It has two up-firing drivers to create an overhead soundscape for Dolby Atmos-encoded content. Its dedicated center channel produces primarily dialogue audio, while its wide 47.2" design provides enhanced stereo separation for TV or music alike.
The Bowers & Wilkins Panorama 3 - Dolby Atmos soundbar connects to the internet over Wi-Fi or through the Ethernet, enabling streaming via Spotify Connect or Apple AirPlay 2. You can also stream from your mobile device via Bluetooth. Amazon Alexa is built-in, allowing for voice control of the soundbar and any compatible device on the same network. The soundbar can also be controlled with the Bowers & Wilkins Music app.
Widescreen for Your Ears
The Bowers & Wilkins Panorama 3 - Dolby Atmos soundbar's form was shaped by function. Its performance target and drive unit configuration were developed to fill your room with sound from a single speaker, with no need for physical rear speakers or an external subwoofer. That meant a substantial cabinet, affording it ample space for substantial drive units, including sizeable low-frequency drivers in a good-sized acoustic volume. It also meant that front and surround drive units would be carefully mounted towards the ends of the enclosure and engineered to deliver an immersive "wrap-around" effect.
True Sound with Real Immersion
The Bowers & Wilkins Panorama 3 - Dolby Atmos soundbar builds on the proven heritage of its two forebears. As with those models, the Panorama 3 is designed to offer great sound from a single, elegant component with no need for additional rear speakers or a subwoofer. It offers a complete, high-quality Bowers & Wilkins listening experience with both music and films, complete with all the room-filling benefits of immersive Dolby Atmos Elevation sound. The Panorama 3 has been specifically designed to be as low-profile and unobtrusive as possible, making it easy to integrate with today's low-height TV stands. Internally, it's based on a similar scalable platform to the Bowers & Wilkins Zeppelin. That will allow it to be developed and upgraded with new features, such as multiroom capability, in the near future. 
This also means that all the key features found in Zeppelin are present, including AirPlay 2 and aptX Adaptive, alongside Spotify Connect plus integrated Alexa voice control and integrated streaming service support from a wide range of providers, all accessed by the Bowers & Wilkins Music App.
Bowers & Wilkins Music App Support
Use the Bowers & Wilkins Music App for all your setup functions and for day-to-day interaction with music services. This brings together a wide range of music services under one platform, including Deezer, NTS Radio, Qobuz, SoundCloud, TIDAL, and TuneIn. Just search for the artist, album, or song you want to hear and you'll be offered all the available options for that content across all the services you subscribe to. You also get access to B&W's specially curated playlists, with carefully selected songs chosen by their acoustic team.
Additional Features
Dolby Atmos and Dolby TrueHD capability enabled by dedicated Dolby Atmos Elevation drive units

HDMI eARC included for simple connectivity and high performance

Low-profile design suitable for easy tabletop mounting below modern flat-panel TVs; wall mounting is also possible

Built-in Amazon Alexa means you can easily play your favorite song, channel, or playlist with just a voice command

Integrated streaming services for direct access to your favorite music in up to 24-bit high-resolution quality from a wide range of streaming services, podcasts, and radio stations, with control via the Bowers & Wilkins Music app

Spotify Connect, AirPlay 2, and Bluetooth aptX Adaptive are also provided, maximizing flexibility and ease of connectivity

Multiroom functionality
---